Leslie's beautiful wearable art garments have won numerous top awards in national and local competitions.
She creates designs utilizing her embroidery, sewing and serger machines. Her original creations include embroidery motifs, beading, fabric manipulation, quilting and other innovative surface design techniques.
Known for her creative use of bright colors and adding trims, decorative stitching, beads, and many other embellishments, Leslie began designing her own patterns in 2005 to meet the needs for her designs.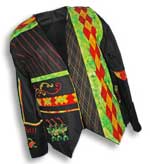 She teaches classes at a local Community College and at area Quilt Shops, as well as presenting trunk shows featuring her unique designs from her pattern collection, "I'm Wearing My Quilt".
Please check back as this website is constantly evolving.